Nuweiba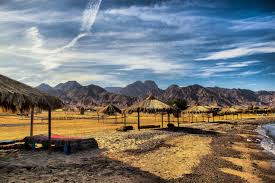 Is a coastal town in the eastern part of Sinai Peninsula, Egypt. Located on the coast of the Gulf of Aqaba.
Historically, the area was inhabited by two different Bedouin tribes: the Tarabin to the north, and the Muzeina, some 8 km (5 mi) to the south. Since the Six Day War when Israel captured the area, Nuweiba Town sprung up just 1.5 km (1 mi) south of Tarabeen, under the Israeli name, Neviot. After the departure of the Israelis, the town expanded and Nuweiba Port, some 7 km (4 mi) to the south, was established and developed, with several car ferries now running every day to Aqaba in Jordan by the Arab Bridge Maritime company, and with a small town growing up around itself.
Nuweiba castle (or Newibah castle), built on top of the remains of a still older castle in 1893, has been proposed as a UNESCO World Heritage site.